Mix Usal
In my house we call this recipe a protein power house recipe. Here I have combined 3 types of lentils. To top it off I have also used peanuts. You will be surprised as the combine taste effect we get in this recipe. Each lentil along with its unique taste contributes towards the overall taste of the dish. The dry roasting of coconut adds a nutty taste in the recipe.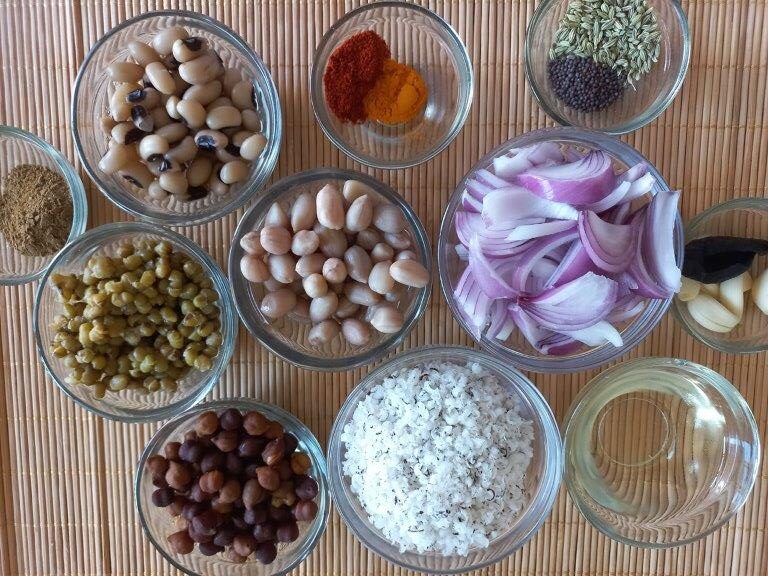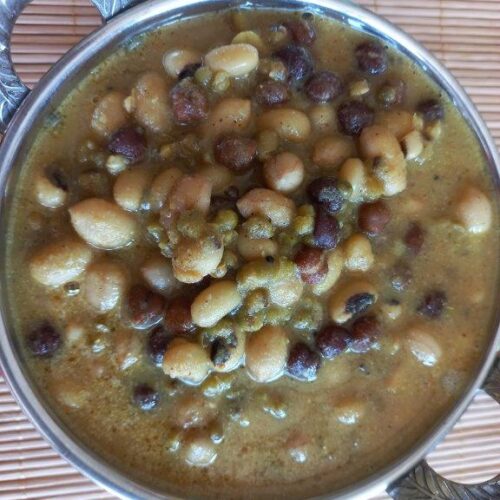 Mix Usal
Ingredients
1/3rd

Cup

Black Chana

1/3rd

Cup

Black Eye Peas

1/3rd

Cup

Green Whole Moong

1/2

Cup

Peanuts

1/2

Cup

Dry Coconut

1

Cup

Onion

4/5

Garlic Cloves

1

Tsp

Fennel Seeds

1

Tsp

Garam Masala

2

Tsp

Red Chili Powder

1/4th

Cup

Oil

1/4th

Tsp

Mustard Seeds

1/4th

Tsp

Turmeric Powder

1

Kokum

1/4th

Tsp

Asafoetida

Salt

Water
Instructions
Soak black chana, black eye peas, green whole moong, peanuts overnight in water (for about 8 hours).

Cook it in the pressure cooker with 3 whistles.

Dry roast coconut over low heat.

when the coconut turns golden brown, turn off the burner. Spread it in a dish to cool down.

Chop the onion and peel the garlic.

In the same pot heat 1 tsp oil. Saute onion, garlic and fennel seeds on low heat until the onion becomes translucent.

Grind it into a fine paste.

In a different pot heat remaining oil. Add mustard seeds.

when mustard seeds starts to sputter, add asafoetida, turmeric powder and red chili powder.

Add all the cooked lentils.

Add about 2 cups of water and garam masala.

Let the mixture simmer for 5 minutes.

Add onion, garlic, fennel paste.

Mix well. Let it simmer on low heat for 10 minutes. Serve hot.
Notes
Remove the roasted coconut on a plate. If you keep it in the same pot in which it is roasted then they keep on browning until the pot is hot. 
You can add the chili powder as per your liking.
You can use different lentils as per your liking.